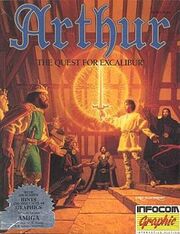 Arthur: The Quest for Excalibur
is an illustrated interactive fiction computer game written and published by Infocom in 1989. Quite atypically for an Infocom product, it featured illustrations of locations, characters and objects within the game.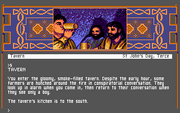 The player assumes the role of a young
Arthur
, before the legendary days of Camelot. The "sword in the stone" that would signify Arthur's destiny to rule, has been stolen by the evil King
Lot
. In the quest to regain the sword, the player must prove to Merlin that he has the qualities needed to be a great king: chivalry, experience, and wisdom.
Merlin
assists Arthur by giving him periodic advice as well as the power to transform into animals, but also tells Arthur that unless
Excalibur
is recovered within three days, Lot will usurp his destiny as a king of legendary stature.
Community content is available under
CC-BY-SA
unless otherwise noted.