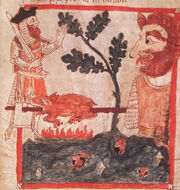 The Giant of Mont St. Michel
was a giant that ravaged
France
until confronted by King
Arthur
. It abducted the niece of the King of
Brittany
and took her to his cave in the mountains known as Mont St. Michel. He plundered the nearby villages, spreading fear among the locals.  Hearing this, King
Howel
asked for the help of King Arthur and his knights to kill the Giant. King Arthur ventured with Sir
Kay
, Sir
Bedivere
, and two squires.
They rode through the deserted forests until they they were within site of Mont St. Michel. Upon the mountain range they saw two fires burning one to the east and one to the west. King Arthur could not decide which one to investigate first and so he sent Bedivere to the smaller fire. Bedivere journeyed across the rocky terrain and drew his sword when he heard movements. When he came to the fire he met an old woman mourning next to a tomb. She told him that she cried for the death of a girl that she had nursed since childhood who had been killed by the Giant. She told Bedivere to leave this place now before the devilish beast killed them all.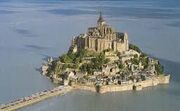 Bedivere reported back to King Arthur who decided to travel to the other larger fire alone. King Arthur with sword and shield in hand, approached the Giant in an attempt to catch him off-guard. The Giant rose up immediately and took a club of oak which he put in the fire. The two fought ferociously until King Arthur cut the Giant between his eyebrows. Blinded by blood the Giant thrashed about with his club and eventually caught Arthur's arm. The King wrestled free and after exchanging blade against wood, the King thrust his sword under the Giant's crocodile skin armor and killed him. He then called for assistance from Sir Kay to behead the enormous man, and prove to the locals that the Giant had been slain.
The battle is described in detail in Historia regum Britanniae, Brut (Lawman), and the Alliterative Morte Arthure.
Community content is available under
CC-BY-SA
unless otherwise noted.