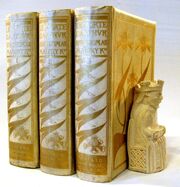 Le Morte d'Arthur
is a modernized form of the name given by William Caxton the publisher to his edition of Sir
Thomas Malory
's Arthurian compilation in 1485. Caxton's actual name was
Le Morte Darthur
, apostrophes being unknown at the time. Malory, in his colophon, refers to the book as
The Hoole Book of King Arthur and of His Noble Knights of the Round Table
.
The modern editor Eugène Vinaver in editions based on newly discovered manuscript of the work, begnning in 1947, named it simply Works, following his theory that Malory intended each of the eight "tales" which make up the full work to be read separately, not necessarily in the same continuity.
Malory is the principal source of inspiration for many modern retellings, including Idylls of the King, The Once and Future King, and The Mists of Avalon.
There have been many direct retelling of Malory's work, rewritten for language choices or story clarity. They include The Boy's King Arthur, The Acts of King Arthur and His Noble Knights, and The Death of King Arthur.
Book I: "From the Marriage of King Uther unto King Arthur that Reigned After Him and Did Many Battles" 
Book II: "The Noble Tale Between King Arthur and Lucius the Emperor of Rome" 
Book III: "The Noble Tale of Sir Launcelot Du Lac" 
Book IV: "The Tale of Sir Gareth of Orkney" 
Book V: "The First and the Second Book of Sir Tristrams de Lione" 
Book VI: "The Noble Tale of the Sangreal"
Book VII: "Sir Lancelot and Queen Guinevere"
Book VIII: "The Death of Arthur
Community content is available under
CC-BY-SA
unless otherwise noted.