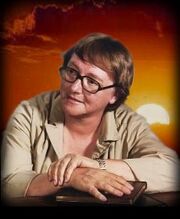 Marion Eleanor Zimmer Bradley (3rd June 1930 – 25 Sep 1999) was an American author of fantasy and science fiction novels. She is best known in Arthurian circles for her novel
The Mists of Avalon
, which was probably her most famous work.
She was raised on a farm in Albany, New York and began writing in 1949. Her first story was sold to ''Vortex'' magazine in 1952. Marion graduated from Hardin-Simmons University in Abilene, Texas in 1965 with a Bachelor of Arts degree. She later moved to Berkeley, California to undertake graduate studies at the University of California, Berkeley. After suffering declining health for many years, Marion suffered a heart attack and died later at Alta Bates Medical Center in Berkeley. Two months afterwards, her ashes (in Arthurian fashion) were then scattered at Glastonbury Tor in Somerset, England.
Marion's first husband was Robert Alden Bradley (married 1949 and divorced 1964) and her second husband was Walter H. Breen (married 1964 and separated 1979 / divorced 1990). Her son, David Robert Bradley and her brother, Paul Edwin Zimmer were also published fantasy / science fiction writers. She also had a daughter, Moira Stern, and another son, Patrick Breen. The Mists of Avalon (1979) was Bradley's version of the Arthurian saga and was told from the viewpoint of Morgaine and Gwenhwyfar. Her other books in this series such as 'Lady of Avalon' (1997), 'Priestess of Avalon' (2000), and 'Ancestors of Avalon' (2004) were written with Diana L. Paxson.