Tristan
(also known as
Tristran
,
Tristram
, etc.) is one of the main characters of the
Tristan and Iseult
story, a Cornish hero and one of the Knights of the
Round Table
featuring in the Matter of Britain. He is the son of Blancheflor and Rivalen (in later versions Isabelle and Meliodas), and the nephew of
King Mark
of
Cornwall
, sent to fetch Iseult back from Ireland to wed the king. However, he and Iseult accidentally consume a love potion while en route and fall helplessly in love. The pair undergo numerous trials that test their secret affair.
Tristan makes his first medieval appearance in the early twelfth century in Celtic folklore circulating in the north of France. Although the oldest stories concerning Tristan are lost, some of the derivatives still exist. Most early versions fall into one of two branches, "courtly" branch represented in the retellings of the Anglo-Norman poet Thomas of Britain and his German successor Gottfried von Strassburg, and the "common" branch, including the works of the French poet Béroul and the German poet Eilhart von Oberge.
In the fifteenth century, Sir Thomas Malory shortened this French version into his own take, The Book of Sir Tristram de Lyones, found in his Le Morte d'Arthur.
Modern Interpretations
Edit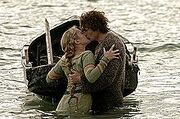 In 1857–59,
Richard Wagner
composed the opera
Tristan und Isolde
, now considered one of the most influential pieces of music of the 19th century. In his work, Tristan is portrayed as a doomed romantic figure.
Algernon Charles Swinburne wrote an epic poem Tristram of Lyonesse. The story has also been adapted into film many times. The most recent is the American version entitled Tristan & Isolde, produced by Tony and Ridley Scott, written by Dean Georgaris, directed by Kevin Reynolds, and starring James Franco and Sophia Myles.
Tristan plays a prominent role in the comic book series Camelot 3000, in which he is reincarnated in A.D. 3000 as a woman and subsequently struggles to come to terms with his new body and identity and to reconcile them in turn with his previous notions of gender roles and of his own sexuality.

In the 2004 film, King Arthur, based on the Sarmatian connection theory of origin for the Arthurian legends, Tristan (Mads Mikkelsen) is a prominent member of the knights, who are Sarmatians serving under a half-Roman Arthur in the 5th century.